Regular price
$5,199.00 USD
Regular price
Sale price
$5,199.00 USD
Unit price
per
Sale
Sold out
Large Backyard/Commercial - The Most Epic
Are you known for hosting epic events? Always anchor the family reunion? Cook for the football team?  Their largest grill, the Reunion, measures 46" across and seats up to ten (10). Its extended diameter is 79" and has a cooking surface of 1,661 square inches. This grill is comparable in size to industrial pull-behind cookers. You'll be happy to host and cook for as many as 30+ guests at a time on the Reunion. Ready to be your neighborhood hero? This is the ultimate outdoor grill table for you.
The Reunion offers the ultimate grilling/smoking/griddling experience for your friends and family and is the perfect investment for a commercial enterprise that frequently cooks for large crowds. If you don't mess around when it comes to your get-togethers, you'll want to bring the Reunion home to meet the family.
The Reunion includes the bowl, table, adjustable legs, 2 interchangeable grates, 2 interchangeable griddles, 1 warming rack, and 2 smoker hoods.
The Reunion comes with a warming rack and can accommodate any combination of 4 grill grates, griddles, and hoods. Its adjustable height (including casters) is 28-34". The total width with the removable table shelves in place reaches 72 inches, so give your group some space.
The Reunion comfortably seats 10 guests at the grill table and has space for nine heat-resistant placemats and nine stainless steel coasters. With your size of crowd, you'll be glad you have the warming rack, which provides 470 square inches of additional space.
The Reunion Can 
Dish It Out
When it comes to satisfying a hungry crowd, the Reunion is ready. With 
1,661 square inches of cooking area
 and 1,246 square inches for smoking and baking, feel free to plan appetizers, the main course, side dishes and dessert. The Reunion serves it up with a capacity for 
70 hamburgers, 38 rib-eyes, 12 Boston Butts or racks of ribs, or 6 full briskets
. You can master a feast for a festival-sized event on the Reunion.
Go Ahead and

 
Expand Your Guest List
The Reunion is the perfect tool for bringing together large groups of people. As your new home base, the Reunion can supply what you need to feed your hungry team. Its high-capacity capability can serve your extended family, neighborhood events, church picnics, civic groups and more. When the feast is over, turn that grill into a fire pit and break out the marshmallows.
Only Dedicated Eventeurs
Need Apply
If your motto is the more the merrier, the Reunion will become your new best friend. However, if you prefer a smaller crowd to connect with, but still throw down some serious barbecue, take a look at the Entertainer, the Pioneer, or the Tailgater.
Stainless Steel or
IPE Brazilian 
Hardwood?
Tables are available in either Stainless Steel or Ipe Brazilian hardwood. The 304 Stainless Steel gives the grill a rugged, commercial look that will last for years. The steel holds more heat than the Ipe Hardwood, so we recommend using coasters and placemats for a better dining experience. The extra warmth can be great for cooler climates.
Ipe Brazilian hardwood is premium table top and built from one of the best wood products on the planet. It is resistant to rot, weather, and fire. The wood is twice as dense as most other woods and lasts for decades with proper care. Ipe wood also stays cooler than steel and provides a warm and beautiful look to your firepit table.
Ideal # of People for Dinner Around the Grill: 10
Grill Diameter: 46"
Grill Diameter Including Wings:

 

79"

Firepit Material:

 

3/16" Steel

Firepit/ Table Height: 28" - 34" Adjustable 
Total Weight:

 

595 lbs

Cooking Area:

 

1661 Square inches

Baking/ Smoking Capacity:

 1246

 Square inches 

Warming Rack:

 470 Square inches



Capacity: 70 Hamburgers, 38 Ribeyes, 12 Boston Butt/ Ribs, 6 Briskets

Grate Material:  304 Stainless Steel
Heat Resistant Mats:  9
Coasters: 9
Cover:  1
Share
View full details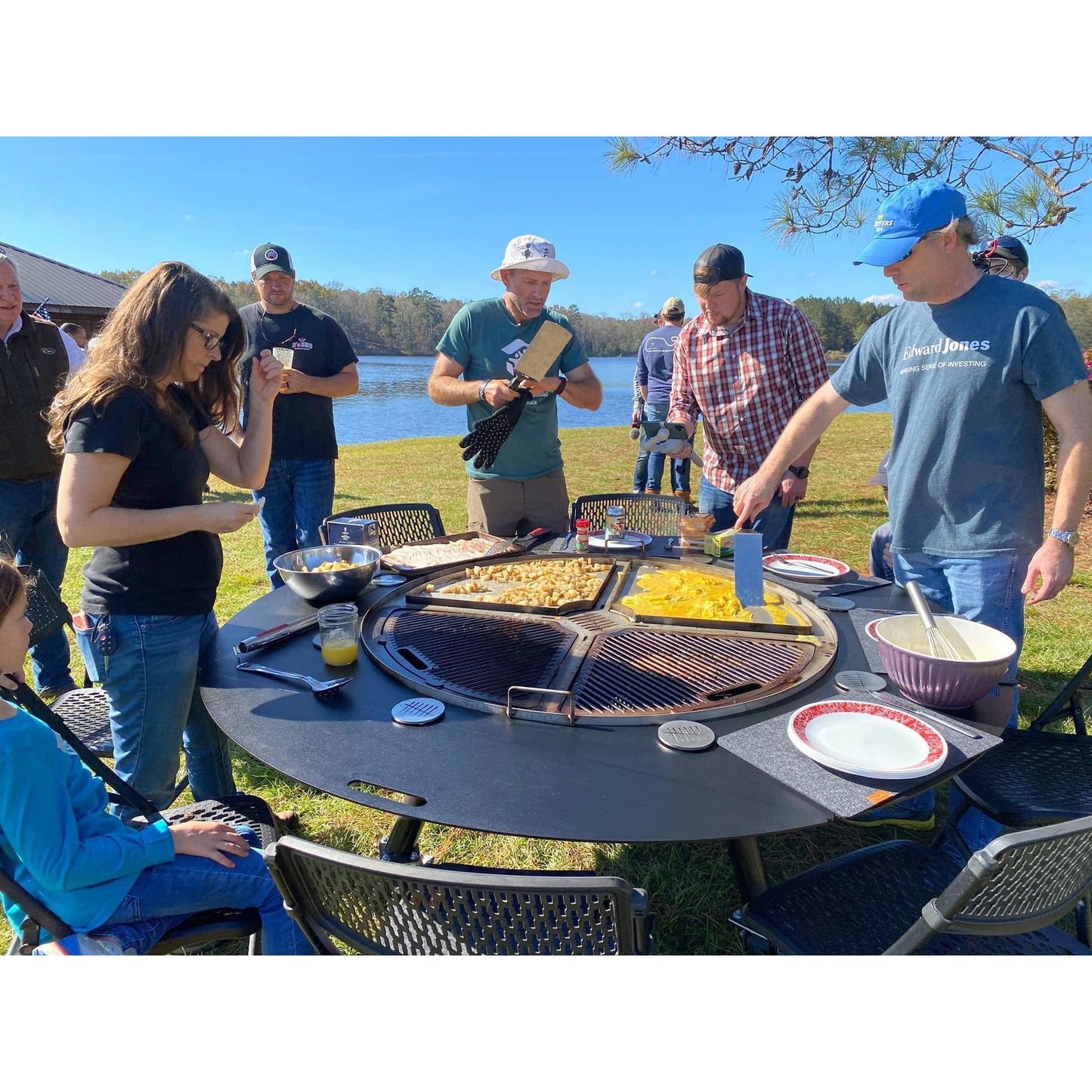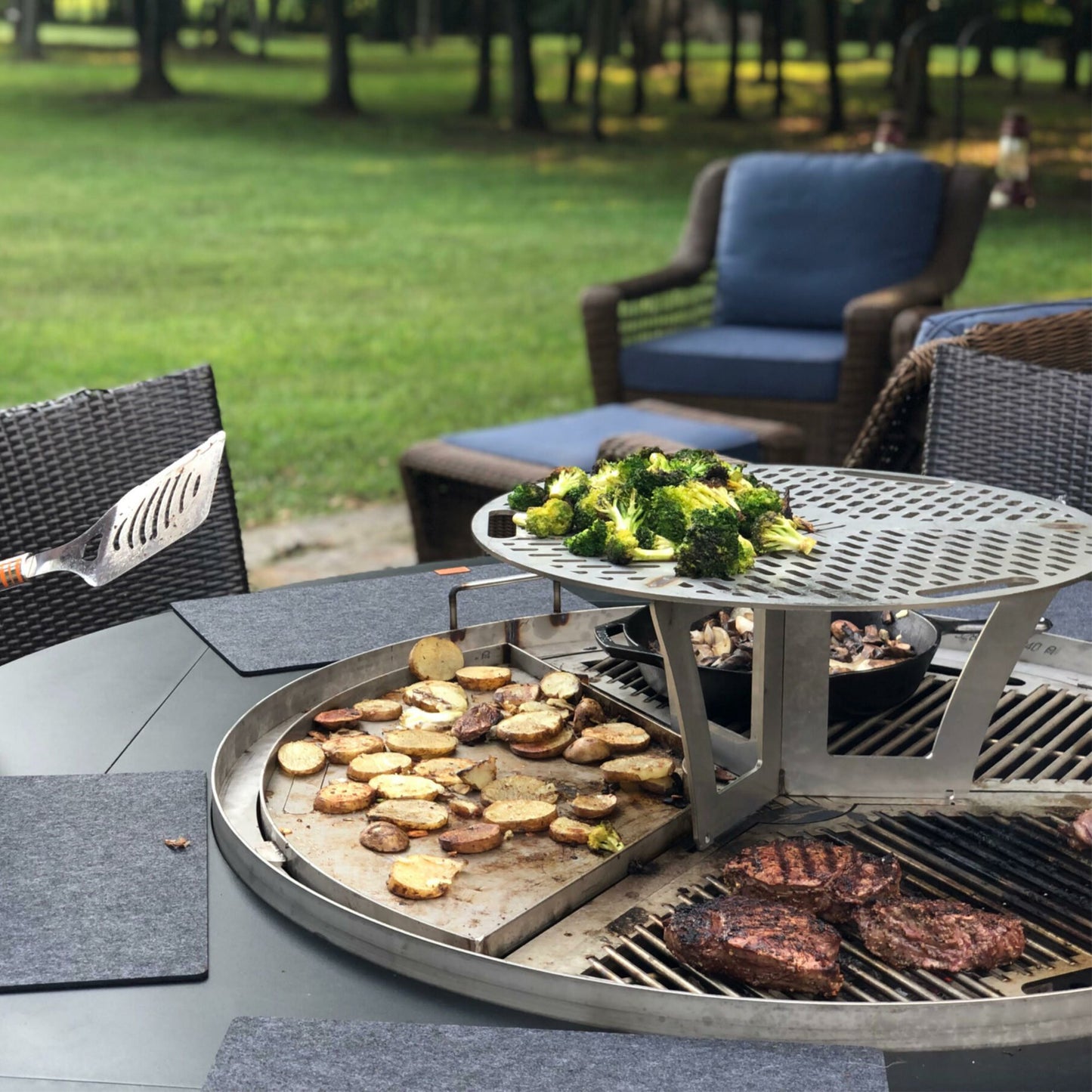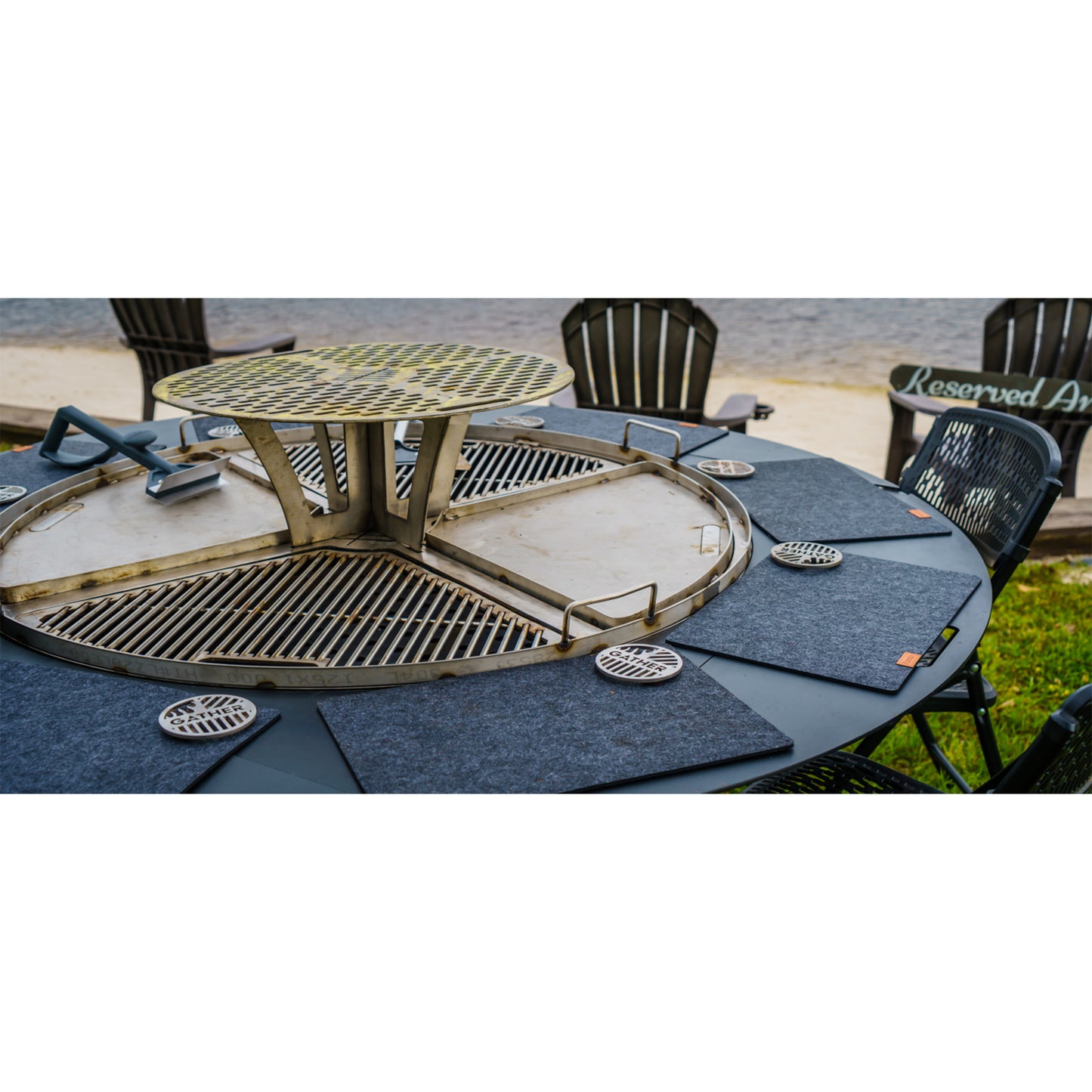 DOMESTIC SHIPPING ONLY

SATISFIED OR REFUNDED

TOP-NOTCH SUPPORT

SECURE PAYMENTS