Regular price
$1,100.00 USD
Regular price
Sale price
$1,100.00 USD
Unit price
per
Sale
Sold out
Two-Part Urethane Wet Look Joint Stabilizing Sealer
FEATURES
Multi-Purpose Product:

 

Seals & Enhances Surface, Hardens Joint Sand
Surface Enhancement:

 

Ultra-Deep Enhancement of Surface & Gloss Finish
Antifungal Film Protection: Protects Sealer Film from Mold, Moss & Algae
Optimal Joint Sand Stabilization:

 

Reduces Sand Washout, Weeds & Insect Infestation
Ultimate Durability & Protection: 

 

Promotes Easier Cleaning & Maintenance
Breathable, Immediate Application

 

– Does Not Trap Moisture or Efflorescence
Packaging: Comes in a 7 gallon Kit (one 5-gal pail and two 1-gal cans) OR a 3.5 gallon Kit
SB-6700 SurfacePRO Ultra is a proprietary water-based, two-part, water reducible, clear (non-yellowing), aliphatic urethane sealer and joint sand stabilizer with ultimate durability. It can be used inside and outside, on old and new, horizontal or vertical surfaces to provide surface protection and stabilize newly installed joint sand in one application process. SB-6700 can be applied immediately after most surface installations, as it is breathable and will not trap naturally occurring moisture or efflorescence. On new concrete, mortar, grout or overlays, it is recommended to wait 7 days after installation to allow for curing before applying SB-6700. Optimal results when performing same day cleaning, sanding and sealing with SB-6700 can be achieved when following the recommended application process. SB-6700 is specially formulated with an antifungal designed to help inhibit the growth of mold, moss and algae on the sealer film.  SB-6700 protects the surface from salts, acids and other corrosive chemicals as well as minimizes overall surface weathering and deterioration.  On a newly installed or restored surface, SB-6700 will deeply enhance surface tone with an ultra-wet look, gloss finish and provide stain resistance which makes cleaning and maintenance easier.  It is non-hazardous and VOC/EPA compliant. SB-6700 is a two component product that requires mixing and dilution before use. Once mixed and diluted, it has the consistency of water, is milky white when applied and dries clear with gloss finish. Cured sealer is freeze resistant to -60°F (-51°C) and is stable up to a temperature of 180°F (82°C).
RECOMMENDED FOR PROFESSIONAL USE ONLY. This product is ideal for professional use in the pressure wash industry.
WARNING: Once applied, SB-6700 cannot be chemically stripped from the applied substrate. If removal is necessary, sand blasting or other mechanical methods must be used. USE PRODUCT AT YOUR OWN RISK.
Suitable Surfaces
Suitable for concrete and clay pavers, flat and stamped concrete, masonry, natural and manufactured stone, segmental retaining wall blocks, concrete walls and exposed aggregate. Ideal for shaded areas, pool decks and outdoor showers where mildew, fungus and algae are a concern.  Recommended for high-traffic areas where high durability and superior chemical resistance is desired.  Safe to use on old or new surfaces in both inside and outside environments. Not recommended for granite, marble, asphalt, glazed or ceramic tile. Test first to verify performance and appearance before applying.
A test area is always recommended to determine product suitability and compatibility with your specific surface before use and also if desired results are achievable. Due to the inherent variability of natural stone and clay products, long term performance may vary. Please consult with us prior to sealing if there are concerns.
Share
View full details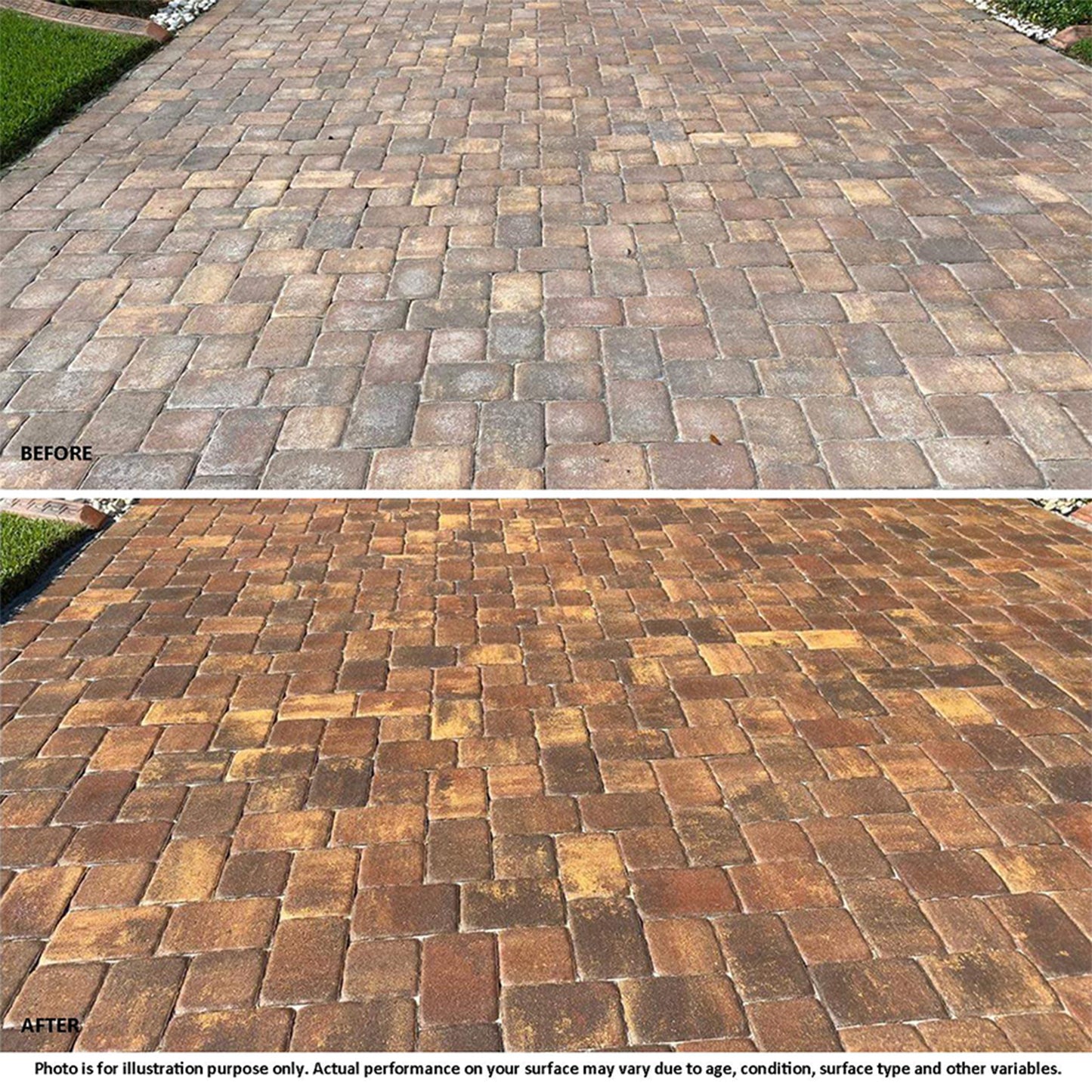 DOMESTIC SHIPPING ONLY

SATISFIED OR REFUNDED

TOP-NOTCH SUPPORT

SECURE PAYMENTS