Regular price
$454.00 USD
Regular price
Sale price
$454.00 USD
Unit price
per
Sale
Sold out
Solvent- Based Invisible Penetrating Sealer
FEATURES
Chemically Bonded Ultimate Protection:  Deep Surface Penetration, Superior Longevity & Durability
Silane/Siloxane Solvent-Based Blend:  Excellent Water Repellency & Safeguards Surface from Salt Attack
Non-Film Forming with Transparent Finish:  Does Not Alter the Appearance of Most Surfaces
Breathable, Immediate Application:  Does Not Trap Moisture or Efflorescence
Packaging: Gallon Containers (4 gallons/case) or Five Gallon Pails
SB-4400 EZ Perma-Seal® is a solvent-based silane/siloxane invisible penetrating sealer. It is recommended for outdoor use, on old and new, horizontal or vertical surfaces. SB-4400 EZ can be applied immediately after most surface installations, as it is breathable and will not trap naturally occurring moisture or efflorescence. On new concrete, SB-4400 EZ should be applied once concrete is fully cured (30 days after installation). SB-4400 EZ protects surfaces from water penetration and salt damage from the use of de-icers or exposure to salt air. Due to its superior water repellency, SB-4400 EZ helps to reduce biological growth such as mold, moss and algae. This product is ideal for professional use in the pressure wash industry.
SB-4400 EZ has the consistency of water, is clear when applied and dries transparent on most surfaces.  Some surfaces may darken slightly. Cured sealer is freeze resistant to -60°F (-51°C) and is stable up to a temperature of 180°F (82°C).
Suitable Surfaces
Suitable for concrete and clay pavers, flat and stamped concrete, masonry, segmental retaining wall blocks, concrete walls and exposed aggregate. May be used on natural and manufactured stone containing quartz or other silicas, grout, unglazed tile and terra cotta. Safe to use on old or new surfaces in outside environments. Not recommended for granite, marble, asphalt, glazed or ceramic tile. Performance may vary on limestone. Test first to verify performance and appearance before applying.
A test area is always recommended to determine product suitability and compatibility with your specific surface before use and also if desired results are achievable. SB-4400 EZ may slightly darken some surfaces. Due to the inherent variability of natural stone and clay products, long term performance may vary. Please consult with us prior to sealing if there are concerns.
Coverage Per Gallon
| APPLICATION | SQ.FEET | SQ.METERS |
| --- | --- | --- |
| Pavers & Other Hardscape Surfaces | 75 – 200 | 6.9 – 18.6 |
| Concrete | 100 – 200 | 9.3 – 18.6 |
| Retaining Walls & Other Vertical Surfaces | 50 – 200 | 4.6- 18.6 |
Coverage based on two coats applied wet-on-wet. Use approximately two thirds of the estimated amount on the first coat and one third on the second ensuring saturation. Actual coverage may vary depending on the type, age, condition, porosity of the surface, application method and other local conditions such as temperature & humidity.
Share
View full details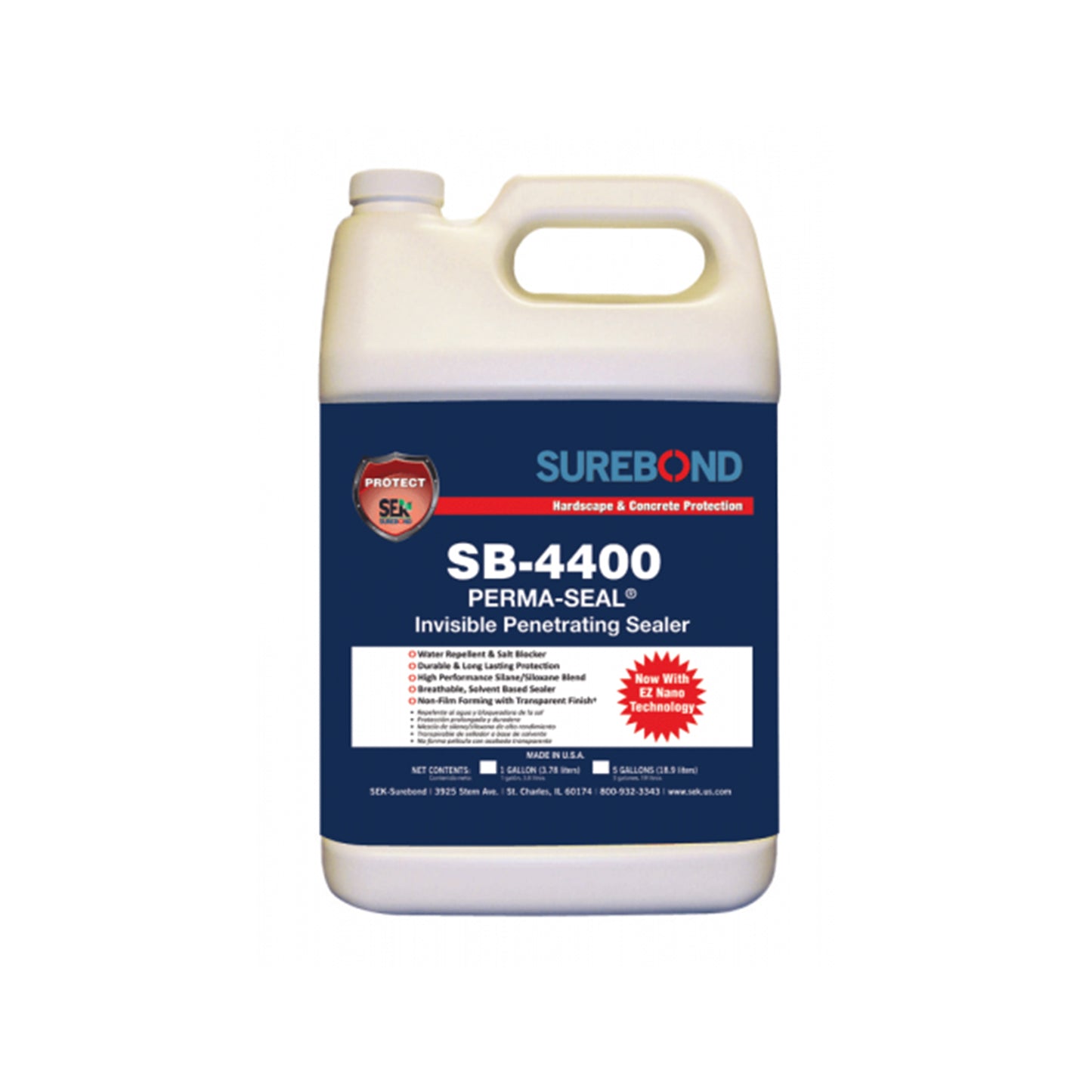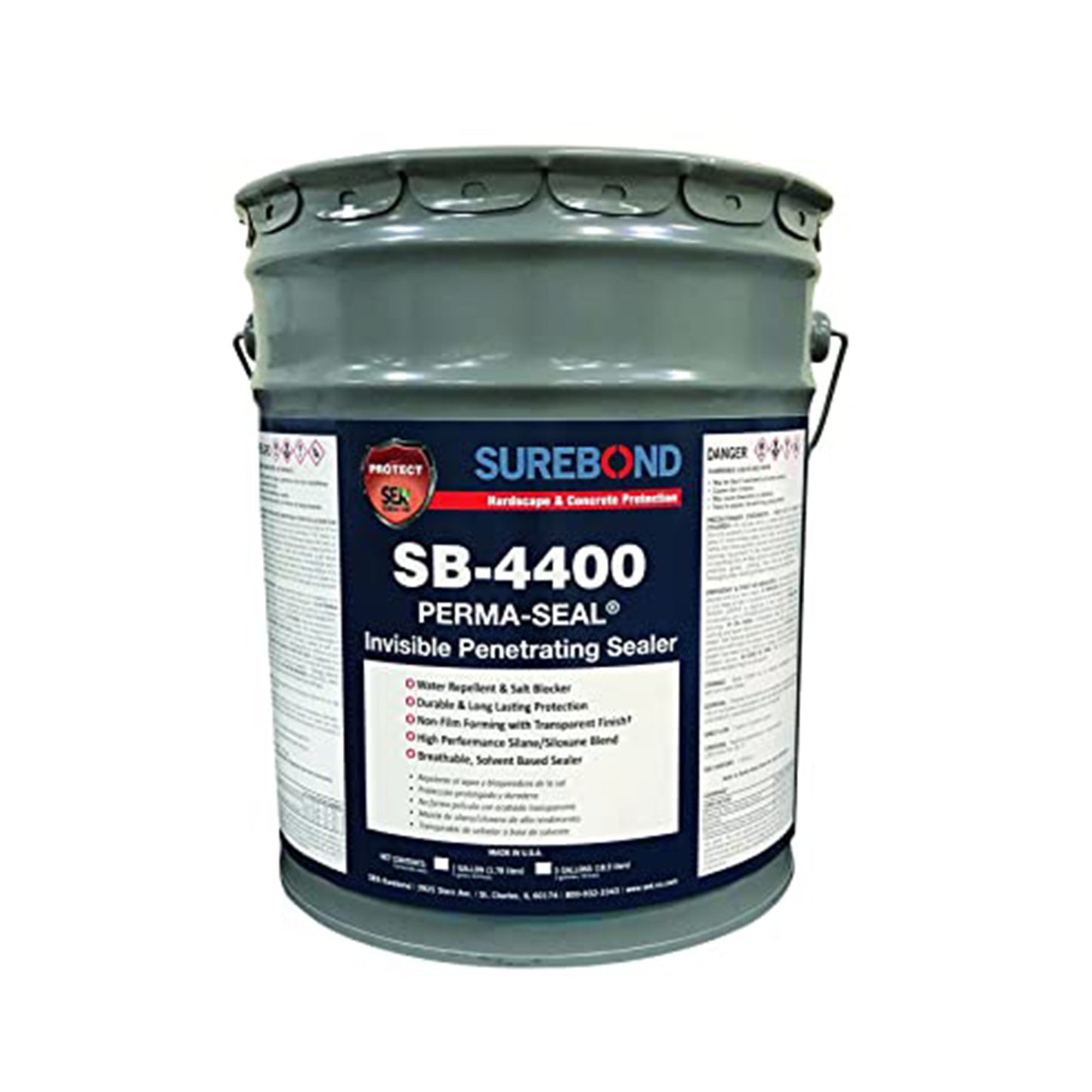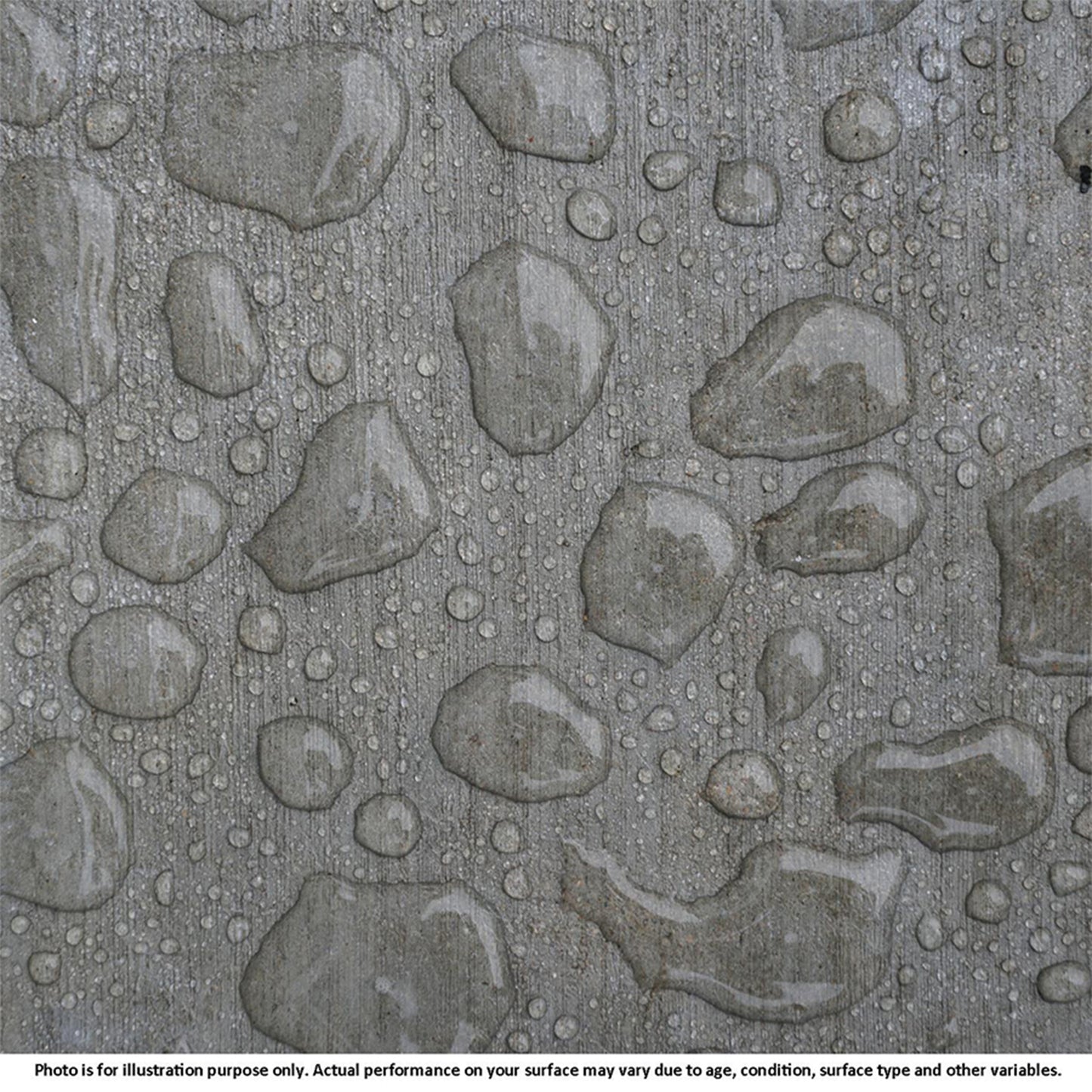 DOMESTIC SHIPPING ONLY

SATISFIED OR REFUNDED

TOP-NOTCH SUPPORT

SECURE PAYMENTS